Get paid $10 to sign up for the Smart Panel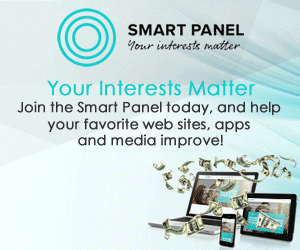 There are a lot of apps available for you to download and install to your mobile devices.  There are even some that will pay you to do this and even less that will constantly reward you with cash for keeping the app installed but the Smart Panel does just that.  You may be wondering exactly what the Smart Panel is and why they will pay you to install their app.  I will explain this and how the app works in this post.
What is the Smart Panel?
The Smart Panel is an ongoing research project ran by Verto Analtytics, that will ask how you use the Internet.  This panel is made up of a group of people that help to improve your favorite websites, apps and media technology by anonymous information that they gather from people like me and you.  This information helps the companies to give you better services and more features.
Why will they pay you to install the app?
Join MindField Online, where you earn cash incentives for every survey you complete. There are no gimmicks, points or sweepstakes that waste your time. Our members earn real money so join today!
Click Here
The answer is quite simple.  Because your feedback and input are invaluable.  The stats that are collected by the Smart Panel helps to make the Internet a better experience.
That information is priceless to these various companies so they will reward members of the Smart Panel app for their participation.
Earn Gift Cards for Your Online Activity from MyPoints.
How much will I get paid?
Earn $1-$5 each time you qualify and take surveys. Test products for free and share your opinions! Plus you will get an entry for a $2,500 sweepstakes when you register! Join Toluna Opinions today for FREE!
Click Here
As soon as you sign up for the Smart Panel app you will earn rewards.  Here is the breakdown of the earnings for each Smart Panel app member listed below as follows:
You will get $5 just for qualifying for the Smart Panel app.
Another $10 for keeping the Smart Panel app installed for one week.
And $5 every month that you keep the app installed.
You can redeem the money via PayPal for cash or Amazon gift cards that you can spend just like cash.
Is the Smart Panel app safe?
Yes, it is very safe.  It will simply run in the background and does not affect your browsing capabilities or harm your mobile devices.  All of your personal information will be kept anonymous and undisclosed.  Your privacy is very important to the Smart Panel and they will make sure any data that is collected by them is encrypted, secured and protected.
Where do I install the app?
To supplement your full-time job or a part-time gig, drive with Lyft to get the extra cash you need. For a limited time, you'll get a $250 bonus after your first 100 rides. Terms apply.
You can install the Smart Panel app to your smart phone, tablet and or PC.  Before you install the Smart Panel app, you will need to register first.
How do I register for the Smart Panel?
You will take their survey here to see if you qualify.  If you do, remember, that you will get $5 for doing so and additional income for keeping it installed.
Sign up for the Smart Panel app today and help improve the Internet and earn some extra cash too!